Music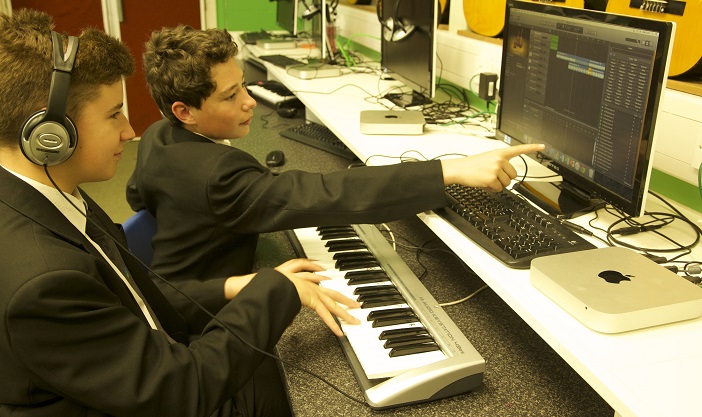 Making music helps you make sense of the different styles of music around you. You will compose music for film scores, rap backing tracks and dance sequences. We go from medieval to modern and study the music of Asia, Africa and the Americas.
You will soon learn how to achieve exciting and 'professional' results from our class network of keyboards linked to computers. Ideas can be recorded and multi-tracked with the GarageBand program. A popular element in Music lessons at Woodbrook Vale features the opportunity to try your hand at Samba Drumming, as well as learning about the music of Brazil.
There are opportunities for students to perform in school ensembles including School Orchestra, Singing Club and School Rock Band. Students are also encouraged to form their own groups and rehearsal rooms are available for students to use at lunchtimes and after school on most days. There is opportunity for students to showcase their talents at our Spring and Summer Concerts.
GCSE
The Music course builds on the skills andunderstanding you have developed in Years 7 to 9. It involves three sections: Performing, Composing and Listening/Appraising. The course specification is OCR GCSE Music. The course is suitable for students who play a musical instrument or students who have a keen interest in music.
Summary of topics you will cover:
Spotlight on your instrument: Practice a performance piece on your main instrument and compose a piece on your instrument. Research the techniques used on your instrument.

The concerto through time: Students will study the great concertos from Baroque to Romantic and how the orchestra has developed.

Rhythms of the World- Students will learn about different percussion groups focusing particularly on, Indian Classical Music and traditional Punjabi Bhangra, Traditional Eastern Mediterranean and Arabic Folk Rhythms, with particular focus on traditional Greek, Palestinian and Israeli music. Traditional African Drumming, Traditional Calypso and Samba. Film Music: Learn how music is used in film to create different moods. Conventions of Pop: Students will study the history and features of Pop music from 1950s to Present Day.
Should I take Music at GCSE?
Yes, if you enjoy:
Composing and performing music.
Learning an instrument or singing.
Creating music on computers.
Learning about all types of music, including popular, classical and world.
Have enjoyed your Music lessons during years 7, 8 and 9.
Teaching strategies
You will learn about the music in the Areas of Study and go on to compose music that isrelated to those Areas. You will also perform a solo piece and take part in an ensemble performance. Most of the course is based on practical lessons using instruments, with theory being used to develop your musicianship further.
Assessment
Although the subject is divided into 4 topics for the exam, the skills involved are closely related and they all form an essential part of a musician's training. You will work on all five units in parallel throughout most of the course, completing the performing and composing during the course and the listening paper at the end of the course.
Beyond GCSE
Students can continue to study music beyond Year 11. GCSE music provides the necessary foundations to progress onto A-level Music, A-level Music Technology or BTEC Level 3 Music qualifications that can be used to progress to higher education (music degree) or progress into a strand of the music industry.
Find out more
Mr Parsons will be happy to talk to you about the course, or look online (OCR or BBC GCSE Music) for more details.