Leicester Royal Infirmary Visit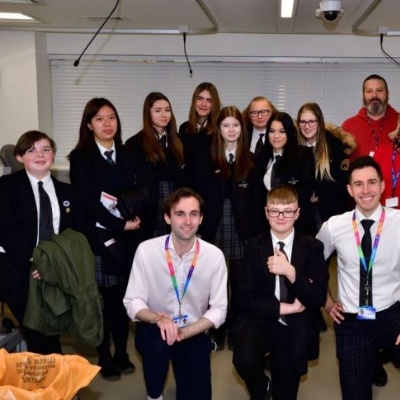 As part of our ongoing career's push in Health and Social Care, we took a very lucky group of Year 10 students to visit Leicester Royal Infirmary to attend their inaugural career recruitment event. We already have a good percentage of HSC students continuing with the subject at college and further but events like this maximises student's interest.
The lucky 20 students were allowed to take part in a variety of workshops to immerse themselves in the possibilities and options available in the medical profession within the NHS and at Leicester Royal specifically. Students were allowed to take part in a practical CPR exercise with state-of-the-art CPR mannequins that regulated and checked the exertions of the students and evaluated their ability to save their patients. Students were also allowed to access the latest camera technology for checking ears and throats. Students were given career's advice by the Leicester University careers team as well as being able to speak to various NHS workers about their career pathways and education backgrounds. The final exercise for the students was working with a fully qualified radiographer and analysing scans and x-rays whilst attempting to diagnose the patient's problems from the pictures.
A huge thank you to Leicester Royal Infirmary and the careers team who put together an incredible event for the students and showcased a whole world of potential careers for them. The group of Year 10 students were thrilled and engaged in equal measure throughout the event and responded superbly to every challenge they were presented with. As well as the amazing event put on by Leicester Royal Infirmary they have also offered us a mentoring opportunity for any future potential medics where the Hospital will support and advise our students over the next few years to assist their journey into a medical career.