Wider Opening of School FAQs
FAQs for Parents and Carers
How Do I Report A Covid-19 Related Absence?
Parents must call the school on 01509 577560 to report an absence as usual. A member of staff will then advise you on what action you will need to take.
Here is a guide detailing the actions expected, these are in line with NHS and Government Guidance.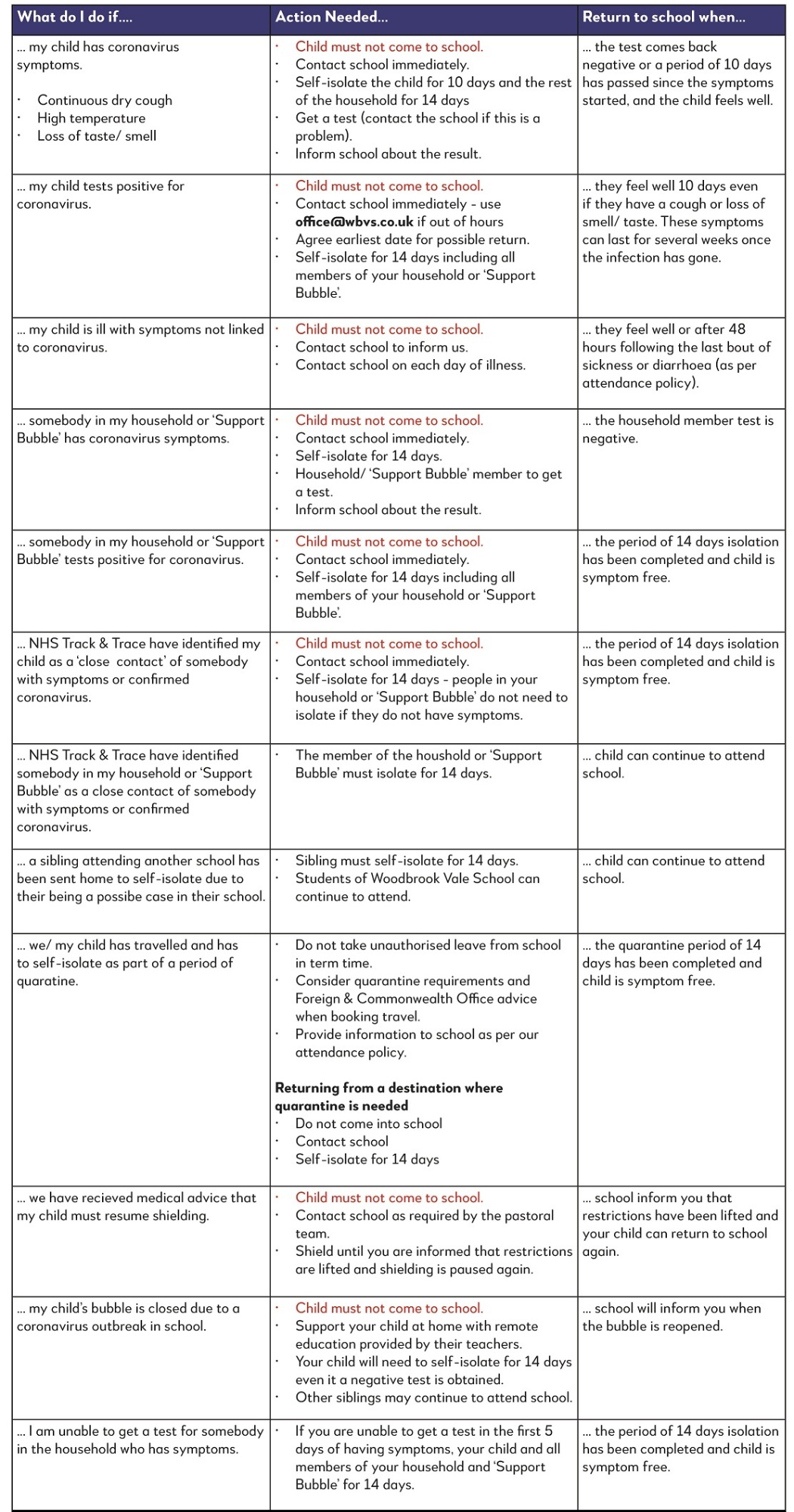 When will the school day start and end?
The school gates will open at 8.15am. There will be no staggering of
arrival time. We will direct students on arrival to their year group zone. Each
year group will enter the building by a different entrance. The zones are as
follows:
Year 7 English block
Year 8 Maths area
Year 9 Science and Sports Hall (entrance / exit past the dining hall)
Year 10 Humanities Area
Year 11 Art, DT, Language and Drama (entrance / exit main reception)
Students will begin to be released by SLT at close of school from 2.55pm
onwards
What timetable will students follow?
Students will follow a timetable of three 100 minute lessons a day on a two
week rotation. Students will take their lessons in their designated year group
zones.
What equipment will students need?
Students will need all the correct equipment including a pen, a pencil, a
ruler, a rubber, a pencil sharpener, a green pen, a protractor, a compass, a
glue stick, a calculator (FX-83GTX) and a few colouring pencils as cross
contamination from sharing equipment must be carefully controlled.
What about textbooks and marking?
Textbooks will be used in class. Student exercise books / assessments will be
marked according to the marking policy, but the turnaround time will take
longer, as books are left 48 hours before being marked and returned.
Will there be assemblies?
Each year group will have a virtual assembly each week, usually on a
Monday. There will be no whole year group assemblies.
Will there be Breakfast Club, The Hub and clubs?

We will not be running Breakfast Club or clubs at this present moment.
We will be offering a homework support club instead The Hub for the next few weeks.
This will be open to Year 7 students and Year 8 students only and sessions will have to be booked in advance.
Sessions will be Monday to Friday 3:00pm - 4:30pm at £2.50 per session. Each session will need to be booked in advance by contacting Sue Moreton via 01509 557560 Ext:106. Payment can be made on Parent Pay under The Hub section once students have been booked in.
Access to Chrome books will be available to complete homework. Headphones will need to be brought in by the student for their personal use. A piece of fruit and carton of drink will be provided.
Will the library be open?
The library will not be open to students as some Year 11 classes will take
place there. There will be a 'satellite' library available to Year 7 located in the
English block.
Will Student Support be open?
The student office is outside of any designated year group zones. Students
can visit the office but must communicate through the glass partition.
What SEND and inclusion provision can students access?
Learning Support will continue with seating plans in lessons designed to
allow LSAs to support SEND students in-class whilst being safely distanced.
A learning support area will be available in each year zone for 1:1 work.

Room 16 will not be available for students at break and lunch. Instead, a
member of support staff will be available in every year zone at lunchtime. We
will do everything we can to help them to settle into the new routines.
Will parents be able to come onto school site?
Parents should only enter the school if they have a pre-arranged
appointment. The school will keep to an absolute minimum the need for any
face to face meetings. Should you need to visit the school, please call 01509
577560 and we will try our best to help under the current circumstances.
Parents must not wait at the school gates to collect their child.

Parents must ensure that the pathway outside school remains clear to allow
students and parents from the school to pass.
What are the arrangements for break and lunch time?
At lunch times, a reduced meal service will be on offer with designated
serving arrangements for each year group.

There will be no fingertip payment. Instead, we will introduce a contactless
card payment system. Whilst we get that up and running we will administer
'Parent Pay' manually. Please always make sure your Parent Pay account is
in credit. Students will not be able to cross 'zones' to get to the finance office.

At break times, using the same venues, snacks and drinks will be available to
buy. Of course, students can bring packed lunches and snacks, which they
will eat in their year group zones.
Can students play ball games at break and lunch?
Football at break and lunch is permitted as a choice students can make as
long as there is no contact. It is not permitted in P.E. however as the guidance
says we cannot make it a compulsory sport. Please help your child to
understand this.
What are the arrangements for wet break and lunch?
Students will remain in the classroom of their lesson before break or lunch
within their designated year group zone.
What about cleaning and hygiene?
All students will be expected to either wash hands or sanitise using
alcohol spray on arrival and at various points throughout the day. We have
had extra sinks installed on the outside walls of the building and every
classroom entrance has sanitiser spray. Students will be expected to follow
strict rules on respiratory hygiene also: the catch it, bin it, kill it, approach.

Toilet facilities will have to be shared (Year 7, 8 and 9 will use the green
toilets; Year 10 and 11 will use the blue toilets). With cleaners on duty
throughout the day, toilets will be cleaned much more regularly.

Extra arrangements are in place for cleaning of surfaces, toilets facilities,
door handles and frequently touched surfaces. However, we are also
expecting students will take responsibility for keeping school and each other
safe by being willing to wipe down items such as their own chair or Ipad,
before and after use. This is good hygiene protocol.
What about pastoral support?
Students' form tutors will remain their first point of contact. Form tutors
are managed by Heads of Year and Mrs Anderson, the Pastoral Deputy
Headteacher. The school has a range of staff and access to external
services to support mental health and wellbeing. Please contact the school
if your child requires this support.
Will My Child Need To Wear A Mask In School?
Under new guidance, staff and students are required to wear face masks when moving around the school and in some classes. This includes using the corridors and queueing to buy food at lunch time and break.
Will There Be Parents Evening and Other Events?
In response to current guidance on public events we are getting creative and putting plans in place to make other arrangements.
Our annual open evening will not take place. However we will distribute information via mail, local primary schools, our website and our Twitter page. For example we are producing a promotional video for prospective students and their families to gain a better understanding of the school.
We will share more information about parents evening soon.