Futures Award
Woodbrook Vale Futures Award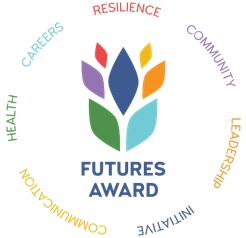 'Intelligence is not enough. Intelligence plus character-that is the goal of true education' Martin Luther King
Character education is not a curriculum based lesson as such, it is not something that is formally assessed or even necessarily considered during the daily movements in the hustle and bustle of a busy school, however it is absolutely essential if we are to play a role in supporting our students to be good, considered and well informed young adults when leaving at 16. We are incredibly proud of our young people and many already present such characters, as demonstrated by some of our student's involvement in such campaigns as student leaders, school productions, supporting school events and anti-bullying. However we have considered that there is a gap in the education of character at Woodbrook, and not all students' access opportunities to develop their character-or indeed know how to develop their character.
The 11th November is an important, and busy, date in the Woodbrook Vale School Calendar, I am delighted to announce that The Rt Hon Nicky Morgan is supporting the school in launching the new Woodbrook Vale Personal Development Initiative, with the intention of radically evolving how Personal Development is delivered in the curriculum. The primary objective being that our students will gain a deeper understanding of the importance of how we choose to behave, the decisions we choose to make and how we fit into the world around us.
The Year 7 personal development curriculum has had a re-boot, with a brand new set of resources and topics ensuring that the school is fully compliant with the 2020 PSHE guidelines and expectations as set out by the government. However, we feel that this just isn't enough to ensure that we are supporting parents to produce well informed, considered and emotionally intelligent young people, enabling them to prepare fully for adulthood. Therefore we are launching an exciting new project that all year 7 students will participate in, the Woodbrook Vale Futures Award.
The staff at Woodbrook have considered, with care, which skills and knowledge areas we feel are essential to support our students to develop as people, together we have identified 7 key areas that need to be the focus of Personal Development Learning at Woodbrook. These are:
Resilience
Community
Leadership
Initiative
Communication
Health
Careers
Students will receive a booklet where they will be asked to gather evidence throughout the year to demonstrate how they have exhibited each of these skills. The booklet will help to guide the students with definitions, suggested activities and key words. Form tutors will be an essential support to help guide with advice and offer suggestions for how to complete the award to the best of their abilities. Student progress will be awarded with a bronze, silver or gold Futures badge that can proudly displayed on our student's blazers, showing they are developing and prioritising their own character education.
So, what next?
The Futures Award is an exciting new project for the school, which is still very much a moveable feast, it is constantly evolving and improving with the intention of ensuring that Woodbrook Personal Development is truly something to behold.
Our next focus is to build and develop an App that will be the method students will record and store their evidence for their form tutor to evaluate and assess. We are hoping for this to be completed in the New Year.
Additionally, we are keen to establish whether we can seek accreditation from a university for our award in order to elevate the value in the eyes of the students.
Furthermore, we intend to introduce a similar award for year 11 pupils to support their character education and preparation for post 16 provision called the Future Leaders Award with the intention of launching in January 2020.
Finally, the Personal Development curriculum for years 8, 9 and 10 is due a re-boot, with new resources and the introduction of further drop down days, for these year groups, Personal Development will be delivered during tutor time and will be a covered fortnightly throughout the academic year.